Our Rooms…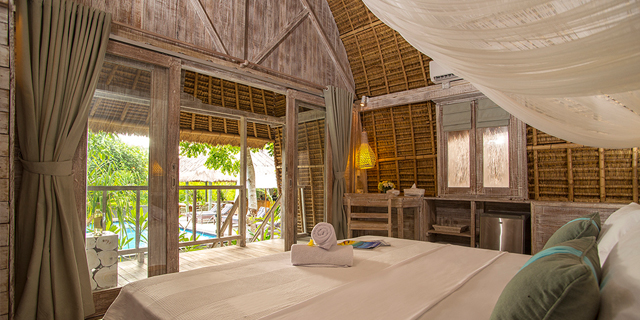 Built in the 'lumbung' style – freestanding elevated rooms based on the old rice barn design – we like to think of our lumbungs as a little bit different to the standard (often dark) traditional hotel rooms on the island.
We've white washed our rooms and they have all have windows as well as sliding glass doors – so they are light, bright and airy.
Decorated in soft greens and greys with a touch of aqua, our rooms create a peaceful, tranquil space and our extremely comfortable beds should always ensure an excellent night's sleep.
Talking of beds, we know that mates and family members don't mind sharing a room but they don't always want to share a bed – so we have king size beds that can be converted to twin beds – the option is yours. Just let us know at the time of booking.
For your comfort the rooms are air-conditioned but they also have fans,as at certain times of the year it is nice to lie with your doors open, enjoying the ocean breeze whilst in comfort under your mosquito net.
We have a mini fridge just in case you don't want to go to the bar and don't wish to be disturbed by room service and we can even top this up for you before you arrive.
All of our rooms have desks and wardrobes as well as a safe and we've got great lighting too with a choice of main bedroom lights or bedside and desk lamps.
Our bathrooms are light and airy with hot and cold water and great quality complimentary shampoo, conditioners, body wash and liquid soap.
Each room has it's own private covered terrace with a built-in sofa to relax in comfort.
We love our rooms and we are very proud of our lumbungs – we hope you love them too and recommend them to your friends and family.
Room Features
•  Stylish interiors
•  Air-conditioning
•  Fans
•  King size (2m x 2m) beds or twin beds –
let us know your preference before arriving
•  Wardrobe
•  Desk
•  Fridge
•  Safe
•  Excellent lighting
•  WiFi
•  En-suite bathroom
•  Complimentary good quality toiletries
•  Bath towels and pool towels
•  Good quality bed linen and mattresses
•  Mosquito nets
•  Hot and cold water shower
•  Private terrace with comfortable seating
Resort Features & Services
•  Spacious fresh water swimming pool with shallow end
•  Landscaped gardens
•  Komodo Spa
•  Komodo Kafe
•  Reception and full concierge services
•  Scooter rental
•  General transport
•  Boat transfers to and from Bali
•  Restaurant bookings
•  Snorkelling and fishing trips
•  Scuba dive bookings
•  Complimentary WiFi
•  Back-up generator
•  Room service (always with a smile)
•  Laundry service available at extra cost
•  Babysitting service available at extra cost
•  Doctor on call
•  Luggage storage